Campview Farm - Guided Llama Trek
What can I expect
Guided Trek along some of Ireland's most breadthtaking scenery
Accompanied by your Campview Farm guide and a beautiful LLama
Take in Erne Estuary
This picturesque farm is nestled in Ballyshannon, a charming town situated along Ireland's captivating Wild Atlantic Way. For those who've ever yearned to experience a day in the life of a farmer, Campview Farm is the ideal destination.
Their signature tour is the Llama Trek, a leisurely and serene activity that allows visitors take a pleasant stroll along the breathtaking shores of the Erne Estuary, being accompanied along the way by a delightful Llama companion. This experience is a great way to relax with a loved one, your family or to mark a special occasion.
Campview Farm holds the distinction of being an accredited Social Farm, dedicated to delivering Animal Assisted Therapy and Green Care, which contribute to holistic health and well-being.
Visitors can relax and relish a scenic and awe-inspiring walk from Campview Farm to the enchanting Erne Estuary, all while being accompanied by a charming Llama.
Additional Information
Visitors are encouraged to take a moment to immerse themselves in the serene splendor of this protected conservation area. Here, they can observe and listen to the wintering birds along the shoreline, witness farm animals peacefully grazing as they traverse the property, and savor the fragrant aroma of wildflowers.
What to Bring
Outdoor attire
Sturdy outdoor footwear is essential for comfort and safety during the visit.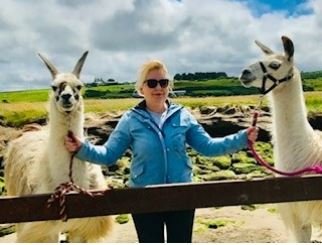 Duration: 60 minutes approximately